Why we should stop medicalizing intersex people, Albanian activists shed light on Intersex community
"Does sex have a history? Is there a history of how was the duality of sex established?
...perhaps this construct called 'sex' is as culturally constructed as gender, indeed!
...perhaps it was always already gender, with the consequences that the distinction between sex and gender turns out to be no distinction at all"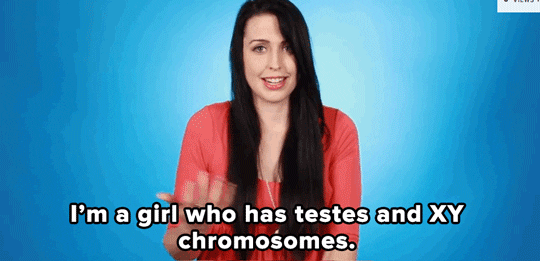 This approach was written by Judith Butler, a gender theorist who raises questions about the "immutable" nature of sex and seeing it as constructed as gender.
In the last months I have become concerned with the history of gender and sex and the inextricable relation between them, and moreover the position of intersex in this gender/sex discourse.
The label of intersexuality marks a body that does not conform to expected traits of the two-sexed/gendered world. Referring to it as a "condition", one immediately medicalizes it.
The various types of intersexuality are diagnosed as "Disorders of Sex Development" (DSD) and individuals with an intersex condition show atypical sexual development.
One of the main challenges that an intersex person faces is the medical intervention done through surgery in order to "normalize" the sex by altering the intersexuality to fit in one of the sexes (female/male). This is done in most of the cases without the consent of the individual, due to a variety of reasons: parents of the intersex person might feel the social stigma, the need to register the gender on the documents etc.
Even though this kind of intervention is risky for the health of the intersex person, still doctors continue to perform it.
On a European level, intersex rights are overlooked. In at least 21 Member States, sex 'normalising' surgery is carried out on intersex children.
In 8 Member States, a legal representative can consent to sex 'normalising' medical interventions independently of the child's ability to decide.
When it comes to Albania the community of intersex people becomes even more hidden. Currently Albania is one of only few European countries to explicitly ban discrimination on the basis of gender identity. While the legal vacuum is silencing the voice of intersex community, there are some interesting research done by organizations from civil society who shed light to our question: what happens to a intersex person being born in Albania?
During IDAHOT2018 in Albania, a workshop named "Aspects of Access to Health and Protection from Discrimination for Vulnerable Groups" was conducted by Civil Rights Defenders. The workshop was part of IDAHOT because it had a special focus on the LGBTI community. What caught my attention was the panel on "Legal protection for Children and Intersex people in Albania and access to health".
Part of the panel was Anisa Metalla, lawyer and simultaneously part of "Falas Legal Service Tirana" (TLAS).
"During our involvement as NGO at the civic registration, we faced some cases when individuals could not register. This happened because they were labelled with the outdated term "hermaphrodite". Therefore intersex infants don't have the legal space to register. For this reason we further investigated due to the vulnerabilities of this group towards access to health," stated Anisa.
What Anisa and her colleagues found out was the medical intervention conducted in these children in order to align with one of the binary sexes. In one of the cases, the medical intervention was performed in one intersex child, after which the female sex was assigned. The intervention brought many side effects to the child, by turning the hormonal treatment as mandatory for the rest of the life.
"Intersexuality has many variations and forms, sometimes gaining visibility during puberty or being distinct since birth" continues Anisa.
Also during the panel there was introduced a regional study on Intersex rights (Albania, Bosnia&Herzegovina, Macedonia and Serbia) by Edlira Papavangjeli, Program Manager for Gender Equality and Access to Justice from UNDP:
"We initiated this regional study with the solely aim to bring awareness for a community like intersex people. This study serves as resource for many professionals like doctors who should be more informed for people who fall under the category of "intersex". We came up with a couple of recommendations."
Based on the outcomes of the study, it turned out that the health professionals and doctors in the countries of the regional study didn't have expertise on cases of intersex people. "Normalizing" surgical interventions are done since an early age, by violating the fundamental rights of the intersex individuals and falling into inhuman treatment.
Unfortunately intersex people or sexual characteristics aren't mentioned in any law or national strategy on Health services " continued Edlira.
These initiatives and awareness-brining studies conducted by civil society organization are already a strong pillar in promoting the fundamental rights of a community forgotten by many institutions of the state. Until intersex people gain the legal recognition on documents, hopefully activists and LGBTI organizations will continue to lobby in order for society not to see intersexual people as abnormal any-longer.
Please reload